Sunday, June 25, 2017
~68°F, 9am, Beaumont School
For the first race coming off of the half, both of us were feeling a bit… nervous about this race in the coming weeks. Not only was it a 10K, but the heat had been excruciating, and our training was perhaps a little lackluster. But thanks to the beautiful weather that morning, and a new, very pleasant course, the race turned out to be as fun as it always is!
As R is currently sans bike, we arrived separately. R drove and parked by the 3 mile marker (giving us a chance to wave as we passed by), and K locked her bike up right by registration (giving us a place to stash our keys and shirts).
For a good 4 miles, we ran together. At some point, R fell back a bit, then decided to push a bit to catch up to K. But as fun as it was to run together for a bit more, a couple other guys had the nerve to scoot past us! We were behind them for a stretch, until R leaned over to K and urged, "Go kick their asses". And that's what she did!
—
K: I was SO SCARED to run this race. I kind of fell off the wagon after the marathon in May, but on top of that, I seriously struggle during the summer months. I wasn't always so challenged by the heat and humidity, but the past few years have been really difficult on my breathing and pacing and this year is no different. Despite my breathing issues, I signed up for the 10K, excited to return to this race after missing it last year (and breaking a 3- or 4-year streak).
The first half of the run was a bit rough for me, but I told myself (and even told R out loud) that I was going to try to maintain a slower-than-usual pace to make sure I didn't deplete my energy early on. That was a little difficult – I can't slow myself down sometimes – but I managed to slog through the first few miles at a good pace. When R told me to go kick those guys' asses, I took his challenge seriously and took advantage of the groove I had fallen into around mile 3. I quickly passed them and found myself cruising through the final 2 miles.
The last mile was probably the hardest mile, though, as my left knee lit up and I even felt myself limping through some of my strides on the final hill. This could have been some irritation my knee is prone to after falling so much, but it was a bit of a surprise after not feeling any pain during the marathon. Even so, I made it to the finish happy to be feeling as good as I did!
R: Meanwhile, thanks to a little bit of pace work the past few weeks, I was able to keep K in my eyeline for most of the race, trailing a couple minutes back the last couple miles. This was also in no small part due to the "encouragement" of another runner nearby. Every few minutes, she would sneak up to me, trying to pull ahead. That was more than enough reason for me to give a little more juice for the next few moments, just to keep the lead. This went on till the finish line, at which point both of us were sprinting. Ducking some walkers finishing up the 5K, we raced past the crowd, one of whom yelled, "Don't let him beat you!" I still managed to edge out the win, and it was fun to finally find that competition at the end of the run.
—
After the race, we walked some laps around the school's track and enjoyed the stands and crowds at the event. This has always been a pretty large race, and this year was no exception. Though with some disappointment, we did realize that unlike last year, there hadn't been a single princess or Batman or Dora the Explorer on the route to cheer us on!
We stuck around for awards, enjoying some delicious frozen Greek yogurts from Yasso. It's safe to say this is one of our favorite races (you might even say it's MOST EXCELLENT, DUDE).
After a brief break to shower and change, we met up with E for some race-day brunch at Gigi's On Fairmount. A bloody mary and some toast points later, we parted ways to take on the day!
Be excellent to each other.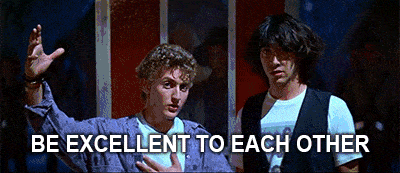 -K & R
Check out our recap from 2015 and what we were running last June!